Discover more from UnfairNation by Ehsan Zaffar
Inequality is rising. Find out what you can do about it 👊🏽
Too many people around the world are unhoused. America isn't doing great either. As a percentage of the population numerous American cities rank in the top 15, including: Phoenix, San Francisco, New York and two cities I consider home - Washington D.C. and Los Angeles.
Wading into the causes and solutions for homelessness is a complicated task, and I'm not here to do that. Instead, I want to share strategies to combat homelessness that have worked and what we can learn from their success.
Medicine Hat, Canada
Population: 63,000
Located in picturesque Saskatchewan, this city with a funny name is known for its prairies, rolling hills and gas fields, which give the city its other funny name: Gas City. About 20% of the city's residents live below the poverty line and the opioid crisis has taken a toll on the community. Homelessness has been a challenge. The pandemic and resulting inflation has not made things easier.
Despite these challenges, Medicine Hat has a functionally zero homeless population. How did they do it?
🙌🏽 Solution: Housing first
People experiencing homelessness in Medicine Hat are first provided housing without any preconditions, then offered support to address other issues they may face. After providing the unhoused a home, the city works on secondary issues such as the provision of physical and mental healthcare or addiction recovery services.
"Ahead of mental health treatment, ahead of addictions. We do our best to get them housed. It is very difficult to do anything for a person with these issues unless they have permanent, stable housing." — Tracie Mutschler, executive director of McMan South, a social services agency in Medicine Hat.
🧐 Why does this work?
Study after study shows that when people experiencing homelessness are offered supportive housing, most take it and stay for the long term. Participants in housing first programs have far less interactions with law enforcement and a much lower rate of shelter stays. Other cities that have adopted similar approaches have seen tremendous success. For instance, Salt Lake City reduced its chronically homeless population by 91% in just ten years using the housing first approach. And good luck finding a homeless person in Helsinki, Finland - where housing is unconditionally provided.
😢 And when doesn't it …?
Sometimes there are people who are in active addiction or choose not to be housed - you cannot force to house them against their will. The key to Medicine Hat's success is that they did not give up engaging with these individuals, eventually convincing all of them to adopt temporary supportive housing.
London, England
Population: 9,000,000
Many people think homelessness isn't a European problem. This is a popular myth. Homelessness is on the rise in every European nation with the exception of Finland. Though the overall unhoused population in London is lower than many American cities, London has a large "hidden houseless" population that doesn't show up in official statistics - people who couch surf, squat in vacant buildings or live in insecure accommodations.
Despite these challenges, things seem to be turning a corner and here's why:
🙌🏽 Solution: Take risks. Innovate.
London has done some wacky things to tackle homelessness, including:
Turning decommissioned double-decker buses into homeless shelters as part of an intervention aiming to improve the living conditions of London's homeless. 

Employing only unhoused Londoners as baristas, in addition to offering professional training, living wages and housing support.

Deploying interactive street kiosks (like those you find in malls) to provide the unhoused directions to the nearest shelters and crisis centers.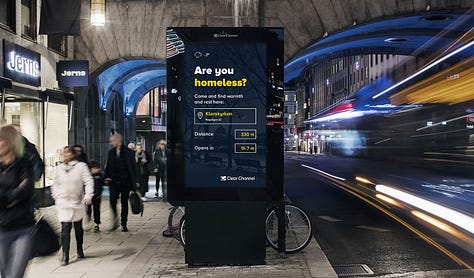 🧐 Why does this work?
Homelessness is an endemic problem that is growing. Tried and tested solutions won't work, and because every city and region is different, the solutions also have to be novel. In addition to capital, political will and socialization, innovation is necessary to achieve 100% functional housing.
😢 And when doesn't it …?
Innovation is great, as long as it doesn't produce outcomes that are inhumane. There are many innovative solutions to homelessness, but they often treat the unhoused as a commodity, or seek to remove them from public view. London's efforts are different - the kiosks and cafes that serve the unhoused don't hide their purpose - they recognize the unhoused as normal and valuable members of the city and community. But many other innovative solutions can turn into soulless, impermanent technical achievements that are never adopted by the unhoused. In the end, people need functional, permanent and safe homes. Converted buses are just a temporary solution.
Tokyo, Japan
Population: 14,000,000
Japan is the only country that has a homeless population of nearly 0%.
Ok yes, it's not actually 0% - but the number is so small (3,448) given Japan's total population (126,000,000) that it counts as zero in official statistics.
🙌🏽 Solution: Hardcore public policy … and cultural homogeneity …?
There are many possible reasons for Japan's low rate of homelessness and most are driven by cultural norms that inform homogenous and strictly enforced public policies, that end up having an incidentally positive impact on homelessness.
🧐 Why does this work?
Japan has one of the lowest rates of drug use and abuse in the world (high drug use, unsurprisingly, is tied to poorer housing outcomes). Harsh punishments for drug use and possession as well as cultural taboos around drug use are among the factors that drive this trend.
Another example is how Japan views the care and treatment of the mentally ill. Mental illness is correlated with homelessness. Though the United States lacks a comprehensive national mental healthcare system, Japan, on the other hand has one of the most wide-ranging in the world, with 269 psychiatric beds per 100,000 people (in the United States that number is 25).
😢 And when doesn't it …?
While Japan's mental health system ends up reducing the homeless population, their treatment of mentally ill people and available mental health resources struggles to meet global standards of care. There may also be discrepancies in the total unhoused count in Japan, but even taking that into account, Japan's unhoused population is extremely low.
Caveats
Most knee-jerk solutions don't work, like:
Banning the unhoused because of body odor;

Fining them for sleeping outdoors;

Or arresting them for using park benches.
Solutions like these, driven out of fear or distrust, tend only to exacerbate the problem.
How do we define homelessness?
Defining homelessness is notoriously challenging. I use the words interchangeably here, but homelessness and houselessness are different concepts. When does one become homeless? What is permanent homelessness? If you are temporarily housed, you may be considered houseless, or insecurely housed. Most of those we consider homeless are often in transitory states. I myself was effectively homeless for a long time as a child. I met the colloquial definition: my family and I lived in buses and tents, and sometimes the homes of family members in different cities. Yet, because I was fleeing my former country of residence, many wouldn't think of me as homeless, but as a refugee.
"Nobody likes homelessness, least of all the homeless" — Jon Stewart.
How do we pay for solutions to homelessness?
There's really no dispute about this: homelessness is a systemic problem, and it will take large systems such as the government and private enterprise, to solve the problem. If we are to implement any of the solutions from these three cities, they have to be funded by all of us. Citizens who care about the unhoused, or even those who dislike them - must come to terms with the fact that they will have to pay to help their fellow citizens find a home.
---


✈️ Catch Me If You Can
NYC | March 10-14

Lisbon, Portugal | March 22-30



🕺🏽
Opportunities
Jobs:

Friend and fellow substacker Pat Garofalo is hiring for a number of policy positions at The American Economic Liberties Project. Check out his newsletter Boondoggle as well!

General David Petraeus who serves with me on the board of Team Rubicon, has a fantastic paid opportunity for students interested in war/peace studies. Learn more or drop me a note if interested.

Coming Soon: 📡 Signal Boost! I'll be expanding this opportunities section into something more comprehensive and hopefully more valuable to all of you.



📅
Reading & Watching
🙌🏽 FairNation
Indigenous-American fashion model and activist Quannah Chasinghorse just helped protect the 20 million Arctic National Wildlife Refuge. Next on her to-do list: reverse climate change.
---
No person goes before their time, unless the boss leaves early.